When Jael Richardson participates in literary events, she notices not only who is asked to speak – but what they're asked to speak about. As the novelist and non-fiction writer from Brampton explains, for many years, "The sessions that tended to have people of colour tended to be about that – they would be about race and culture."
"And I just started to notice the problems that happen when diverse people are positioned as experts in diversity and not as experts in craft," she continues. "It sort of diminishes how they're seen as authors."
This is part of what led Richardson to found The Festival of Literary Diversity (known as the FOLD, for short) in 2015. Each May, the festival brings together authors from across Canada who are diverse in age, race, culture, faith, abilities and gender. "It's just a really special place where we celebrate voices we haven't heard enough from in the past," says Richardson, who is also the festival's artistic director.
Book-lovers boost Brampton, and beyond
From the beginning, the festival has taken place in downtown Brampton, a suburb with one of the most diverse populations in all of Canada. "[It's] a city of a lot of newcomers," says Richardson, "a lot of people from different cultures and communities and backgrounds who have come together from different places and celebrate the stories that come with them."
Richardson was deliberate in locating the festival in Brampton. She saw the need for quality literary programming to happen locally – not just in places where book events usually took place, like downtown Toronto, a 45-minute drive away. "It's about recognizing that people in marginalized spaces and marginalized cities also deserve attention and support and visits from amazing authors," she explains.
It didn't take long to see that local residents were eager for this attention: by 2018, the festival was welcoming more than 900 guests annually, and more than 50 authors and industry professionals. And Brampton has benefitted from the FOLD in many ways – beyond the excitement and experience of the festival itself, it generated $150,000 in spending for local businesses in its first three years alone.
Did you know? The arts revitalize Ontario communities and build local economic development. 88% of Ontarians agree that arts and cultural activities are important to a community's economic well-being.

Source: Arts and Heritage Access and Availability Survey 2016-2017, Environics Research Group, March 2017.
Richardson also notes an interesting parallel between how suburban audiences and diverse writers are similarly (and unfairly) underestimated. "A quality that happens for writers in marginalized communities, or writers who are writing in different genres – you're often undervalued and seen as 'lesser-than,'" she notes. "And I really think for us to be in Brampton and seeing people's response to us doing it in Brampton has reminded us of what happens when you overlook places, people, spaces that really deserve attention and celebration."
In 2019, the FOLD launched a second festival dedicated to diverse children's literature and storytellers, complemented by events for school groups that happen year-round. And today, Richardson hears directly from teachers about why the experience is so meaningful for youth: "Students are having these experiences where they're seeing authors that they didn't know about tell stories that are familiar — or unfamiliar — and having these really moving experiences and moments."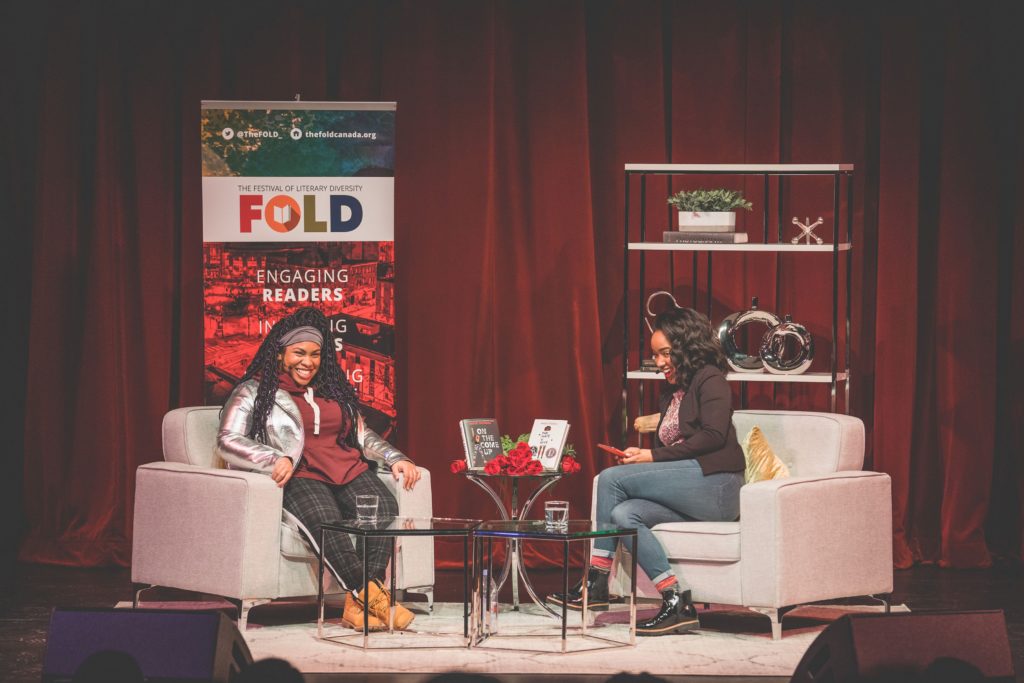 Why early support matters
As an early supporter of the FOLD, the Ontario Arts Council (OAC) has played an integral role in helping the organization grow from a spark of an idea into the community-making literary festival it is today. "OAC's was the first funding we got," Richardson explains. "It said, 'You can do this. You can make this happen.' It was a big deal for us."
Richardson was grateful to get guidance from OAC early on. "Even before we were able to put in our first application, we had a one-on-one meeting [and got] a really comprehensive look at how it works … I can't tell you how much of a difference that makes when you're coming at it with nothing."
"For us, it has been the best grant experience in terms of getting in at the entry level and progressing towards the organizational level. [The OAC] has been very open with us on how to get there." And with this knowledge, the FOLD is helping lay the groundwork for even more cultural opportunities in Brampton. "We've been able to use [our] experience [with OAC] to help the city also develop a similar system."
Did you know? 88% of Ontarians agree that participating in arts activities builds a shared sense of community identity.

Source: Impressions of the Impact of the Arts on Quality of Life and Well-Being in Ontario: Ontario Arts Council Survey Findings, by Nanos Research for the Ontario Arts Council, March 2017.
Elevating the voices of Brampton, diverse writers, and diverse readers alike – as Richardson reflects, "Diversity takes a lot more work, but it always reaps better results … It always – always, always, always – makes for a richer conversation."