Since its inception, Créations In Vivo's mission has been to explore a variety of performing arts disciplines to tell engaging stories to its audiences.
In vivo means "in a living environment" – an inspired name for a small company that has connected artists and audiences through original works since its inception in 2007, illustrating the vitality of Ontario's vibrant Francophone culture along the way.
Create, train, bring together – with a multidisciplinary approach
Créations In Vivo was founded in 2007 by Stéphane Guertin, a multi-talented artist (storyteller, musician, theatre director, choreographer), along with other multidisciplinary artists. The company has evolved over the years by focusing on the three pillars of its mission: create, train, bring together.
'Create,' of course, is the root of its name, as the group is dedicated to creating original works that meld visions, cultures and individuals. As costume designer Andrée Rainville explains, "We wanted our work to be new creations, to come from us, the artists, to be new … rather than what already exists in the theatrical repertoire."
'Train' refers to In Vivo's role in arts education. "There was this desire very early on to train both emerging artists and students," says communications manager and assistant artistic director Sylvain Sabatié. Their first works were developed specifically for young audiences, and youth participation has remained central to the company's work.
"'Bring together' is sort of a philosophy that cuts across the whole thing," says Sabatié. "Going out and meeting audiences, the community, in places other than in theatres – at events that wouldn't necessarily involve theatre." In many ways, it is the audience that brings their work to life: "It's that idea of actually creating something living, of bringing communities together," adds Sabatié.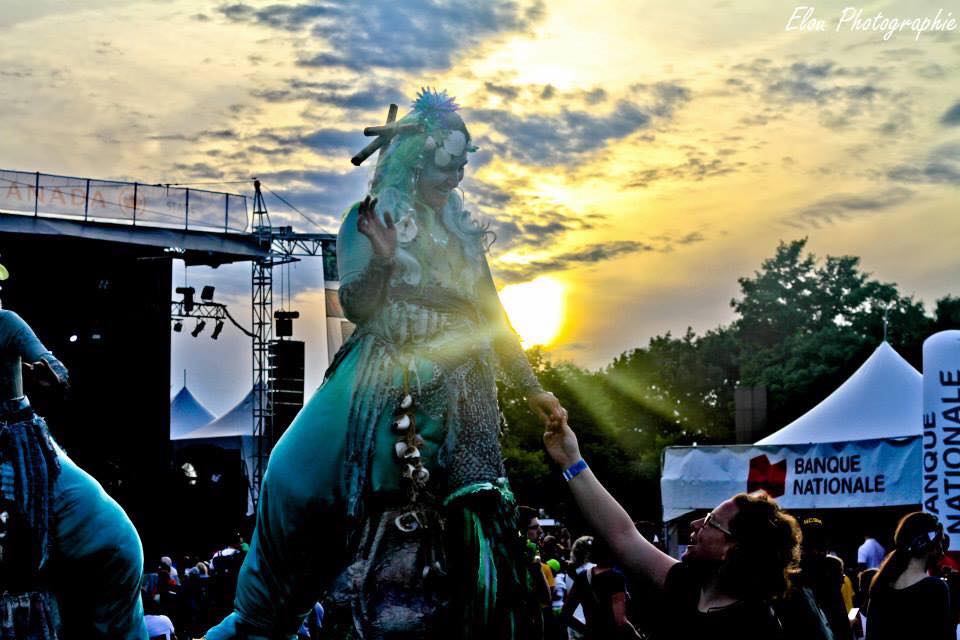 The shows that got the ball rolling
Audiences quickly fell in love with what Créations In Vivo was doing. Its first production – C'est arrivé à Sainte-Utopie, a blend of storytelling and song – was performed at Contact ontarois in January 2008 and won Réseau Ontario's "Coup de foudre" school award, which earned them the opportunity to tour French-language schools across Ontario. "So, right away, the company was on the road touring Ontario, then other parts of Canada, and eventually internationally," says Sabatié.
Créations In Vivo again won the "Coup de foudre" award in 2009 and 2011 for La pluie de bleuets and Légendes boréales, both of which combine theatre and circus arts. These three creations alone have been performed a total of 337 times for more than 75,000 students, who have experienced first-hand the magic of live performance – the unspoken connections between the artists and the audience, along with the energy of a packed house. In other words, what makes art so engaging.
The young company's potential was soon recognized, as it received its first touring grants from the Ontario Arts Council in 2008. Other OAC grants to support community-engaged arts followed, allowing Créations In Vivo to develop its school workshops program (Artistes aux 4 coins or A4C). To date, the company has delivered more than 400 workshops, introducing more than 15,000 elementary and secondary students to performing arts disciplines such as circus arts, improv, slam, storytelling and public speaking.
Did you know? OAC has played a leadership role in arts education for over 50 years, and 97% of Ontarians believe that engaging children in the arts is important to their overall development.

Source: Impressions of the Impact of the Arts on Quality of Life and Well-Being in Ontario: Ontario Arts Council Survey Findings, a Nanos Research report prepared for the Ontario Arts Council, March 2017.
Accessibility is a priority
It's important to Créations In Vivo that students across Ontario, no matter where they live, can benefit from these experiences. However, few cities and towns outside the province's major urban centres have the infrastructure for small-scale performing arts shows. "We really want our shows to be able to go anywhere, for the location not to be a limiting factor," Sabatié notes. "Not many Francophone communities have professional performance venues, but that's not a problem. It doesn't stop us from going there." In fact, far from deterring Créations In Vivo, venue limitations have spurred the company to create flexible, easy-to-install sets and ingenious, multipurpose props that audiences marvel at.
Public funding enables Créations In Vivo to bring its magic to smaller communities, most of which have little access to the performing arts. "We performed La pluie de bleuets in Gogama, a small town in northern Ontario," recalls Rainville. "The children there had never been to a play, and then they saw us. I'm sure they still remember it."
As Sabatié adds, "We often get OAC funding for tours. Without that support, the tours wouldn't happen. That's the reality."
Did you know? In 2018-2019, 36% of organizations that receive annual OAC funding toured within Ontario, reaching an audience of 1.1 million people with performances, exhibitions or screenings of Ontario arts activity.

Source: Actual figures for 2018-19 submitted as part of 2020-21 OAC operating applications/CADAC, or in final reports on 2018-19 project grants, representing the most currently available data.
Creativity anchored in sustainability
Créations In Vivo has received operating funding from the Ontario Arts Council since 2011. This sustaining support can give small companies the foundation they need and room to explore new avenues.
"It's the operating funding that enables us to pay staff and get our creations off the ground," says Sabatié. "The fact that there are people there to keep the company going gives us time to hire artists to work on creating shows, workshops, and so on. Without OAC grants, the company wouldn't have lasted 10 years." The result is greater exposure for Francophone artists in Ontario, and for Ontario on the world stage.
Something for everyone
Whether they're performing in a small hamlet or a large city, for a group of attentive students or for adults in the community, Créations In Vivo strives to create works that reach and engage all types of audiences. "It's part of the sensibility of the artists who work with Créations In Vivo to have a very inclusive notion of a wide audience … of really being able to connect with everyone," says Sabatié.
But is it really possible to reach all audiences? "Stéphane told me about this one time," remembers Sabatié. "On this particular day, In Vivo did a show in the morning at an elementary school, in the afternoon at a high school, and in the evening, at a CEGEP, for the general public. Each time, there was a discussion after the show, and Stéphane would ask, 'Who do you think is the target audience for this show?' And each audience was convinced it was made for them."
The wide appeal of Créations In Vivo's performances illustrates the living nature of art and the universal quality found in the stories of the particular. In part thanks to public funding, small-scale arts organizations like Créations In Vivo have been able to touch the hearts and minds of people across the province.